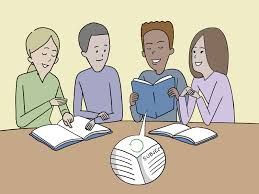 Effective Learning: Using Group study for Exam Preparation
If an exam is pending, the question of the ideal preparation arises. Many people believe that they can learn best on their own – but isn't group learning more effective? We show you the advantages of learning groups and what you have to pay attention to when organizing.
Whether during school, studying or as part of further training – if you want to do something for your (professional) future, you can't avoid exams. For many people, exams are extremely stressful because they naturally want to get the best grades, but do not know how to effectively prepare for the exam.
Save your time - order a paper!
Get your paper written from scratch within the tight deadline. Our service is a reliable solution to all your troubles. Place an order on any task and we will take care of it. You won't have to worry about the quality and deadlines
Order Paper Now
Often those affected "barricade" themselves in their apartment before the exam and spend all of their time studying. However, this is often not particularly effective, and so the question arises: How can you prepare for an exam as well as possible? According to a Coursework Geeks Experts, a good option is to prepare for exams in study groups, because learning together with others is not only fun, it is the perfect complement to learning as a "lone fighter".
In this article we will show you why learning in study groups is so effective and what you need to pay attention to when preparing for exams in study groups.
Learning in a group – the better way?
Study groups are very effective and help you prepare for exams – it's easy to say, but you might be wondering why it is. It is therefore worth taking a closer look at the advantages of learning groups – and also addressing the possible disadvantages and problems.
A big advantage of learning groups is certainly the motivation. If you learn alone, motivation is often quickly lost and then the temptation is great to "take a break" or to convince yourself that "you have already understood the topic". On the other hand, when you learn together with others, such excuses are far less effective. You can also support the other group members with encouraging words or specific help if you are stuck with a topic or have not understood something.
Another benefit of learning groups is the different learning methods and approaches that group members use. This will allow you to see a topic from different angles and possibly find easier access to it. We will explain to you later which learning methods work particularly well in learning groups.
In a learning group you will always receive direct feedback – if you have made a mistake, the other group members will point it out to you so that the mistake cannot even become established in the brain as "wrong knowledge".
Of course, study groups are not a "magic potion" when it comes to exam preparation. They require a very high degree of organization, and the members of the group must have roughly the same level of knowledge so that learning can work effectively. In addition, they cannot completely replace learning outside the group – the group members should bring a basic knowledge with them that can then be deepened and consolidated in the learning group.
If you need any help in any of your academic writing assignments and essays, ask for help here.
"Our Prices Start at $11.99. As Our First Client, Use Coupon Code GET15 to claim 15% Discount This Month!!":
Get started
https://courseworkgeeks.com/wp-content/uploads/2021/07/LOGO.png
0
0
admin
https://courseworkgeeks.com/wp-content/uploads/2021/07/LOGO.png
admin
2021-01-28 14:19:59
2021-01-28 14:20:04
Effective Learning: Using Study Group for Exam Preparation